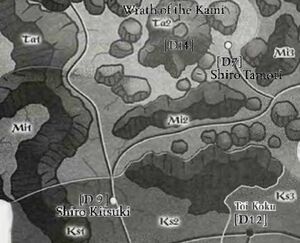 The Yakeishi province (Mi2) was a Dragon province of the Mirumoto family. It was where most of the Mirumoto military strength was located, with many castles and barracks, supported by many small farming villages. Its most notable holdings was Tetsu Kama Mura, [1] which sat atop the Iron Mountain. [2]
It was bordered by the Gaien province (Mi1) to the West, by the Kinenkan province (Ta2) to the North, by the Toshibu province (Mi3) to the East, and surrounded by the Sinjutsu province (Ks3) to the South. [3]
In 1199 it was discovered a Jade vein. [4]
References
Ad blocker interference detected!
Wikia is a free-to-use site that makes money from advertising. We have a modified experience for viewers using ad blockers

Wikia is not accessible if you've made further modifications. Remove the custom ad blocker rule(s) and the page will load as expected.