Sumai
Talk

0
21,182pages on
this wiki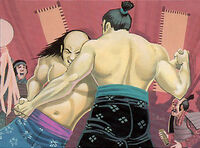 Sumai, also known as sumo, [1] was a game of wrestling, one that was taken very seriously, and controlled by strict rituals.
Sumai duels were performed in a dojo. Blessed rice was used to line the outside of the wrestling circle they would fight within. The first samurai pushed out of the circle loses, who first stepped out of the circle with both feet. [2] An actual bout of sumai was over in seconds, as two massive wrestlers slammed into one another with the intent or knocking the opponent off his feet or pushing him out of the ring. [3]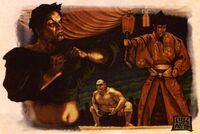 There were four ranks of Sumo, the lowest of which was the juryo. The next rank up was maehashira, followed by sanyaku. The highest rank was yokozuna. [4] [3]
Rituals and Traditions
Edit
Before bouts took place between two wrestlers (who were also called sumo), there was a period of meditation, as well as purification. [3]
Bouts only took place between two sumo of the same rank.
During the Imperial Winter Court, only sumo of the highest rank, the yokozuna, were allowed to compete. The bouts took place between two teams of wrestlers that fought seventeen rounds. The winner of this tournament was gifted a masterwork bow and was then invited to perform ritual dancing and singing, called bugaku, while twirling the bow. [3] [4]
External Links
Edit
References
↑ Art of the Duel, p. 17
↑ GM's Survival Guide, p. 52