Winter Thunder is a fiction written by Nancy Sauer. It was the Fiction that accompanied the Starter Boxes for the Khan's Defiance expansion.
Annotated Story
Edit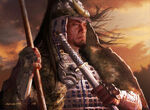 It opens on Moto Chagatai discussing his plans with his most trusted generals, Utaku Xieng Chi, Iuchi Lixue and Shinjo Shono. They discuss their provisions and Ide Tang's plan to have strategic supply stations already in place in Lion lands. Shono voices his concern that the march can be seen as treason, and that the Scorpion Clan were destroyed when Bayushi Shoju assassinated the Emperor in 1123. Shono is quickly quitened by both Chagatai and Lixue.
Later Chagatai is adressing his troops on White Shore Plain, within sight of Shiro Moto. Standing at the first Shi-Tien Yen-Wang temple built in Unicorn lands, he is joined there by Moto Tsusung and Moto Ogedei. Lixue uses magic to increase the volume of Chagatai's speech so it can reach all the soldiers, and Chagatai inspires his soldiers before beginning to march towards Toshi Ranbo.
Characters
Edit
Not Present, But Mentioned
Edit
Relevant Tournament Results
Edit
Unknown.
This fiction has a minor error in it. The character Moto Ogedei had been killed in a previous fiction by Bayushi Moyotoshi. ([2])