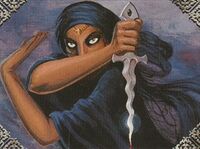 The Wicked Moon was a legendary Kindjal of the Assassins, the order of the Old Man of the Mountain. [1] It was handed down from mother to daughter, and countless murdered were counted with it. [2]
Appearance
Edit
It was a dagger of curved razor with a simple black hilt ornate in one side with a silver crescent moon. [1]
It was the weapon used by Hassan al-Alamut, the Old Man of the Mountain, in his first murder. Since then it had been used in thousands of assassinations. [1]
In 1125 it was gifted by the Old Man to his daughter Fatima, after she succeeded while other of his daughters, Chandra, had failed. In 1132 Fatima used it to kill her father. [3]
Somehow Faida, another of the Daughters of the Mountain, was the next wielder. [1]
Known Wielders
Edit
External Links
Edit
References
Ad blocker interference detected!
Wikia is a free-to-use site that makes money from advertising. We have a modified experience for viewers using ad blockers

Wikia is not accessible if you've made further modifications. Remove the custom ad blocker rule(s) and the page will load as expected.