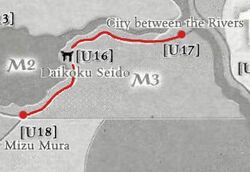 White Shore Way was the road that connected Mizu Mura (U18), Daikoku Seido (U16), and City between the Rivers (U17). The path followed the southern shore of White Shore Lake where it met Sleeping River, then north on to the City between the Rivers. There was a fair amount of trade along this road, and often a great deal of dried fish being transported between Mizu Mura and the City between the Rivers. [1]
References
↑ Secrets of the Unicorn, p. 14
Ad blocker interference detected!
Wikia is a free-to-use site that makes money from advertising. We have a modified experience for viewers using ad blockers

Wikia is not accessible if you've made further modifications. Remove the custom ad blocker rule(s) and the page will load as expected.