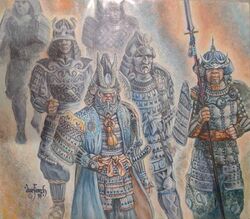 Whispers of the Land was a Mastery 2 earth spell [1] developed by the Agasha which caused the trail of its subject to glow with a soft light, allowing him to be tracked unerringly. Every footprint, every bent branch, every tiny piece of evidence marking the target's passage was lit up for the tracker to find. It was used by Kitsuki Magistrates and others who sought out the criminals of the Empire. It required a material connection to the target as a piece of clothing, a lock of hair, or similar. [2] [3]
External Links
Edit
References
Ad blocker interference detected!
Wikia is a free-to-use site that makes money from advertising. We have a modified experience for viewers using ad blockers

Wikia is not accessible if you've made further modifications. Remove the custom ad blocker rule(s) and the page will load as expected.