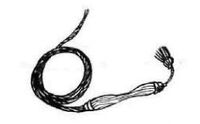 Whip was a tool used to exert control over animals or other people, through pain compliance or fear of pain. It was the Yasuki Taskmaster primary weapon [1] also used by the Lion on enslaved Zokujin working in their copper mines, [2] and by Matsu Beastmasters. It was part of the Nofujutsu weapons. [3]
Whips were typically made from leather, and first introduced to Rokugan by representatives from Thrane during the brief period where they were allowed in the Imperial City preceding the Battle of White Stag. Rokugani whips had the long leather lash attached to a wooden handle, or to leather wrapped in silk so that the samurai did not have to touch the dead flesh. [2]
See also
Edit
References
↑ Player's Guide: 2nd Ed, pp. 116, 180
↑ Time of the Void, p. 56
Ad blocker interference detected!
Wikia is a free-to-use site that makes money from advertising. We have a modified experience for viewers using ad blockers

Wikia is not accessible if you've made further modifications. Remove the custom ad blocker rule(s) and the page will load as expected.