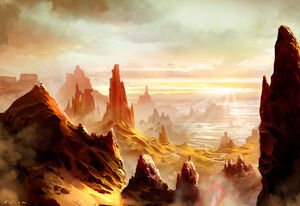 Western Wastes were the barrened plains located west of the Western Steppes [1], north of the region of the Ivory Kingdoms which would be known as the Empty Plains, [2] and east to the Great Void. [3]
Appearance
Edit
The Wastes were a bleak expanse of low barren hills rising from dry and desolate plains. The terrain was devoid of notable features and appeared the same in all directions. Both plants and animals were scarce. [4] It was a horrid, wretched place. No Imperial Cartographer had ever assigned it anything more regal. [5] One of the areas was named the Sand Sea. [1]
Colonies
Edit
Journey's End Keep marked the border between the Wastes and the former Ivory Kingdoms. [6] The Western Wastes was the only path from the Emerald Empire to the Colonies. Unicorn caravans crossed it, toward the Second City. Raiders used to attack them in the wastes. [5] The Mantis Clan viewed the whole of the Colonies as their domain, and began seeking a northern route to distant Medinaat al-Salaam. [7]
Tracks of the Dark Naga
Edit
In 1199 the Dark Naga had been driven out from Rokugan. Tracks of these creatures where found in the Western Wastes, as if they were heading towards the Second City. [8]
External Links
Edit
References