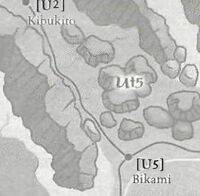 The Way of Forgotten Tears was the road that connected Kibukito (U2) to Bikami (U5). This road was also known as One Direction Path for the fact that those that traveled to the Far North Village did so with the intent never to leave again. The road traced a well-maintained path through the mountains, and it received only a few travelers every month. [1]
References
↑ Secrets of the Unicorn, p. 52
Ad blocker interference detected!
Wikia is a free-to-use site that makes money from advertising. We have a modified experience for viewers using ad blockers

Wikia is not accessible if you've made further modifications. Remove the custom ad blocker rule(s) and the page will load as expected.