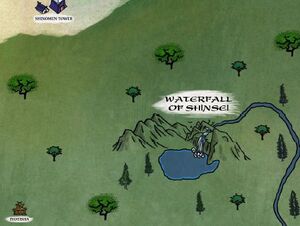 The Waterfall of Shinsei was discovered by Unicorn scouts in the north of the Shinomen Forest, where the River of the Sky cascaded over a series of rocks and down into a clear pond. Clear quartz crystal rocks echoed the sunlight and for a few hours each day the dell was a place of rainbows and mists. [1]
Pilgrimage
Edit
The name "the Waterfall of Shinsei" came from a story that claimed this was the last place Shinsei paused before departing Rokugan forever. In honor of this, [2] Samurai-ko made the journey to this spot to dedicate their soul to the bonds of fealty, and to purify themselves in the falling water. [1]
References
Ad blocker interference detected!
Wikia is a free-to-use site that makes money from advertising. We have a modified experience for viewers using ad blockers

Wikia is not accessible if you've made further modifications. Remove the custom ad blocker rule(s) and the page will load as expected.