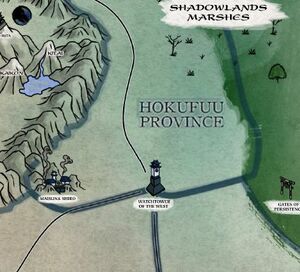 The Watchtower of the West (CB2) was a tower that predated the Kaiu Kabe itself. [1] It sat within the Kaiu Hokufuu province, [2]
Punishment Station
Edit
The watchtower once served as a northern guard, looking for signal fires from the south from troops stationed to defend against a Shadowlands attack. Since the building of the Carpenter Wall it had been rendered almost completely useless, and had remained largely abandoned. Those who now served here were mostly criminals, dishonored samurai and those fallen into disfavor. Being assigned here was a great dishonor, as you would be a Crab stationed on the middle of nowhere, rather than where the battles occur. [1] The Forty-Seventh and Forty-Eighth Legions of the Third Crab Army were stationed there as punishment duty. [3]
Destroyer War
Edit
In 1172 the Amoro's Legion alongside with the Kitsuki Justicars defended the Tower during the Destroyer War. Destroyers threatened the Watchtower, but Hida Tatsuma and Mirumoto Ishino rallied the Crab and Dragon forces to hold the line until the remainder of the Legion could return. The defense was successful and the enemy were forced out of the region. [4]
Known Watch Commander
Edit
References
↑ Secrets of the Crab, p. 96
↑ Masters of War, p. 40
Ad blocker interference detected!
Wikia is a free-to-use site that makes money from advertising. We have a modified experience for viewers using ad blockers

Wikia is not accessible if you've made further modifications. Remove the custom ad blocker rule(s) and the page will load as expected.