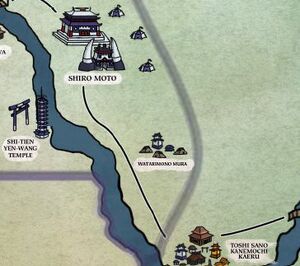 Watarimono was a small trading village on the way to Shiro Moto, used as winter quarters for the Moto herders. [1] During half of the year, it was nearly empty, as its inhabitants wandered across the plains. The ones who remained did so to maintain trades with their partners from across the Empire. [2]
Seized by the Lion
Edit
In 1169 the village was conquered by the Lion Clan during the march to Shiro Moto, who set up fortifications there. [2]
References
Ad blocker interference detected!
Wikia is a free-to-use site that makes money from advertising. We have a modified experience for viewers using ad blockers

Wikia is not accessible if you've made further modifications. Remove the custom ad blocker rule(s) and the page will load as expected.