The Watanabe family was a vassal family in service to the Yoritomo family of the Mantis Clan. Officially, this small family was home to the most talented kobune makers of the Mantis Clan. [1]
The ancestral home of the Watanabe was Beautiful Dawn Port, just north of Toshi no Inazuma. The Watanabe existed to do more than simply build ships, it consisted entirely of members of the bloodlines of Gusai, the first Mantis Clan Champion to earn the clan a family name. Those of Gusai blood maintained their broth­erhood when their family was stricken from history, being a de facto vassal family of the Yoritomo. Yoritomo Aramasu patroned the Watanabe to shelter the descendants of the disgraced Gusai family. [2]
Watanabe Daimyo
Edit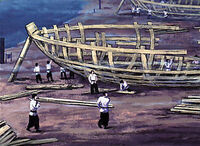 The following were the known daimyo of the Watanabe:
Other Notable Members
Edit
See also
Edit
External Links
Edit
References
Ad blocker interference detected!
Wikia is a free-to-use site that makes money from advertising. We have a modified experience for viewers using ad blockers

Wikia is not accessible if you've made further modifications. Remove the custom ad blocker rule(s) and the page will load as expected.