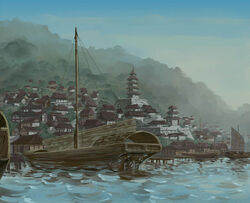 The Bay of Dark Water (YYY) was situated between the cluster of islands controlled by the Mantis, [1] overlooked by the village of Tokigogachu. [2]
Superstition
Edit
There were few of those who believed in superstitions who crossed the bay. The sailor superstition said there was a city of horrible creatures on the bottom of the bay, and if you did not throw some rice over the side of the boat you would bring doom upon your head from the creatures below. [3] [1]
Naga City
Edit
A Chameleon city once existed in the waters around what would become the Islands of Silk and Spice. The naga city was ravaged by the Lying Darkness, and its name was lost even to the Akasha. The first Naga Abominations arose from this city, and after the first Great Sleep they were left completely alone. When they were disturbed by Kaimetsu-Uo and his followers they destroyed several ships, only to stop when a Mantis sailor learned that tossing rice overboard kept the creatures at bay. [4]
Ghost ship
Edit
In 1123 a ship sunk by pirates returned as a ghost ship, attacking any vessel sailing the Crane-Mantis route. [5]
Third Seal
Edit
The Temple of the Third Seal was located at the bottom of the Bay, since a time that predated the Emerald Empire. In 1200 the temple and the Third Seal was destroyed during the Battle of the Third Seal, the amassing of shadowlands beasts in the Bay of Dark Water had gone unnoticed for months. The Great Sea Spider had hold its court in the bay, and from it attacked the Mantis Islands. [6]
External Links
Edit
References
↑ Secrets of the Mantis, p. 18
↑ Roleplaying in the Emerald Empire, p. 245
↑ Secrets of the Mantis, p. 19
↑ Midnight's Blood, p. 37
Ad blocker interference detected!
Wikia is a free-to-use site that makes money from advertising. We have a modified experience for viewers using ad blockers

Wikia is not accessible if you've made further modifications. Remove the custom ad blocker rule(s) and the page will load as expected.