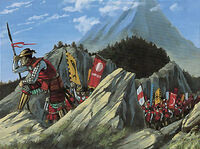 Walk Through the Mountains was a Mastery 7 mystical earth kiho that merged the spirit of the monk with earth. Few students of earth kiho learned this kiho, and those who did don't even claim to understand it. It allowed the monk to pass through earth and stone as if it was not there, but neither monk nor material become immaterial. It would allow the monk to pass through stone walls, or walk across quagmires of viscous mud without sinking. Metals processed by man, such as steel, were not susceptible to this kiho. Moving through large expances of stone could be dangerous, as it was completely dark and the monk could lose their way. The kiho lasted for several minutes, but if caught within the stone when the kiho expired the monk would suffocate almost immediately. [1] [2]
External Links
Edit
References
Ad blocker interference detected!
Wikia is a free-to-use site that makes money from advertising. We have a modified experience for viewers using ad blockers

Wikia is not accessible if you've made further modifications. Remove the custom ad blocker rule(s) and the page will load as expected.