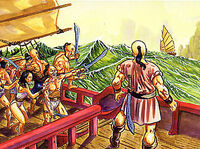 A Wako were ronin pirates that sailed the seas around the Crane Clan and Phoenix Clan coasts. They preyed upon coastal trade without mercy, and when the Crane or Yasuki would hunt them they run to the Mantis Clan coasts. When the Mantis hunted them they hid in the Phoenix coasts. No one made a coordinated effort to stop them. [1]
External Links
Edit
Wako (Dawn of the Empire)
References
↑ Way of the Minor Clans p. 18
Ad blocker interference detected!
Wikia is a free-to-use site that makes money from advertising. We have a modified experience for viewers using ad blockers

Wikia is not accessible if you've made further modifications. Remove the custom ad blocker rule(s) and the page will load as expected.