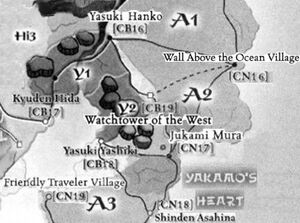 The Wakiaiai province (A2) was an Asahina province of the Crane Clan [1] which contained Jukami Mura. [2] Much of the province was marshland which was often called the "armpit of the Crane" due to its humid climate and boggy stench, especially in the summer. [3]
The province was bordered by the Anshin province (A1) to the North, the ocean Yakamo's Heart to the East, Shinkyou province (A3) to the South, and the Yasuki provinces to the West. [1]
References
↑ Game Master's Guide; 2nd Ed, p. 28
↑ The Atlas of Rokugan, p. 39
Ad blocker interference detected!
Wikia is a free-to-use site that makes money from advertising. We have a modified experience for viewers using ad blockers

Wikia is not accessible if you've made further modifications. Remove the custom ad blocker rule(s) and the page will load as expected.