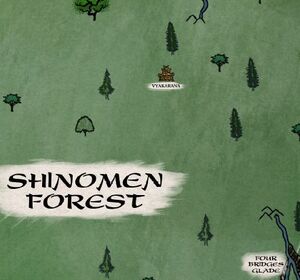 The City of Magic (N2) was a Naga city inside Shinomen Mori. The Naga here never fully recovered from the first Great Sleep, and much of the city remained covered in thick mystical webs that even the Naga did not understand. [1] It laid deep in the mists of a valley that was enshrouded on three sides by the Three Waterfalls. [2]
Cobra Rebirth
Edit
The Cobra were eternally reborn only within its bloodline through the Well of the Cobra, [2] which was kept hidden, and the Cobra would kill any outsider who came too close. [3]
Outcasts Incursion
Edit
300 years before the Great Sleep a large force of Outcasts forcibly entered the city, stole a number of sacred pearls, killing many jakla in the process. A force of Asps pursued the traitors across the Burning Sands and destroyed them. Eventually the Asps run afoul of the Ashalan, who came to believe that the naga held the key to overcoming the problems that plague them, waging terrible war on one another. [4]
Great Sleep
Edit
The Pearl of Mist was brought to the city to perform the spell which caused the Naga slumber, the Great Sleep. [5] The Naga race existed in the city Akasha, deep in Yume-do, superimposed over Vyakarana. The collective racial soul, also named "the Akasha", laid at the heart of the city, in the Qatol's palace. [6]
The Unicorn Clan commander Moto Chen and his wife, Akasha, made the city their home, joined by several hundred awakened Asp warriors. They chose the city for its proximity to Unicorn lands. Certain quarters of the city were not ventured into for fear of what might lay hidden in those areas. [1]
Shinomen Burns
Edit
In 1170 Akasha was warned by the Akasha the Shinomen was burning, being the city in danger. She and Chen hurried to help, but the forest was saved by a magical rain summoned by the Phoenix Clan, awared by Shiba Ningen of the fire. [7]
References
↑ The Atlas of Rokugan, p. 220
↑ Creatures of Rokugan: Third Edition, p. 18
↑ Way of the Naga, p. 46
↑ Fortunes & Winds, p. 103
Ad blocker interference detected!
Wikia is a free-to-use site that makes money from advertising. We have a modified experience for viewers using ad blockers

Wikia is not accessible if you've made further modifications. Remove the custom ad blocker rule(s) and the page will load as expected.