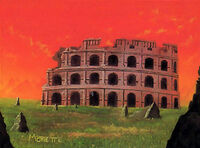 Volturnum was the capital city of the Troll culture before it was destroyed by Osano-Wo and later fell to the taint. [1] It was deep in the Shadowlands, but its exact location was constantly shifting. [2]
Volturnum was built in two rings. The first was the outer city, between the outer walls and the inner city wall. The second was the inner city, where the magic portal Oblivion's Gate layed inside a great coliseum. [3]
Lying Darkness
Edit
After the final batlle in the War Against Shadow the city was declared sacred by Lady Moon and Lord Sun. Let it never more be seen in darkness, nor by day neither by night. [3] The ruler of Volturnum was Doji Kuwanan, who supposed to live immortal within the walls of the city. [4]
Buildings
Edit
Tonbo Toryu
Edit
The Dark Oracle of Void, formerly the Oracle of Thunder, resided in the city. [2]
External Links
Edit
References
Ad blocker interference detected!
Wikia is a free-to-use site that makes money from advertising. We have a modified experience for viewers using ad blockers

Wikia is not accessible if you've made further modifications. Remove the custom ad blocker rule(s) and the page will load as expected.