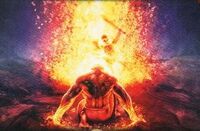 Volcano tattoo was a tattoo used by the tattooed orders of the Dragon Clan, which made the skin of the monk's torso and upper limbs took on the appearance of lava. Any flammable object which strikes the monk's body, including wooden weapons and arrows, would sear to ash within moments. [1]
External Links
Edit
References
Ad blocker interference detected!
Wikia is a free-to-use site that makes money from advertising. We have a modified experience for viewers using ad blockers

Wikia is not accessible if you've made further modifications. Remove the custom ad blocker rule(s) and the page will load as expected.