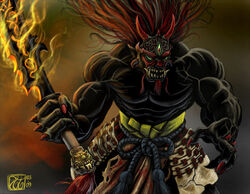 Uzaki no Oni, the Demon Commander, was an oni commander of the Shadowlands.
Appeareance
Edit
Uzaki no Oni were as tall as ogres, had jet-black skin and flame-red hair. Horns sprouted from their heads, their mouths were full of sharp fangs, and the fingers were clawed. They used to wear armor and wielded obsidian katana that burned in flames. [1]
Oni Commander
Edit
Uzaki no Oni had better tactical knowledge to command the Shadowlands forces in the battlefield, than their undisputed rulers, the Oni Lords. They were intelligent and questioned captured samurai to learn in their enemies' tactics, and to share the knowledge with their kin. [1]
Legends said that any who bested an Uzaki no Oni in battle, but allowed it to live, would be hunted down to prove it was the better warrior. [1]
Destroyer War
Edit
Uzaki no Oni fought against the Destroyers in the Destroyer War. [2]
See also
Edit
External Links
Edit
References