Please note: This article is about the first Puja. For other uses of the term, please see Puja (disambiguation).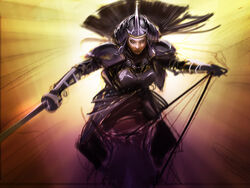 Utaku Yumiko was a bushi and Battle Maiden of the Unicorn Clan.
Spyglass
Edit
Yumiko used a Spyglass to read fan signals from all about the battlefield. [1]
War of Dark Fire
Edit
In 1171 during the War of Dark Fire Yumiko fought in the Battle of Shiro Utaku Shojo under the command of Utaku Yu-Pan. [1]
External Links
Edit
References