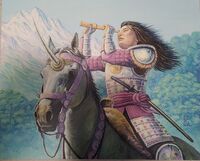 Utaku Yasuha was a bushi and battle maiden of the Unicorn Clan.
Khan's Defiance
Edit
In 1168 Yasuha was part of a Unicorn force seeking a safe passageway to the Imperial City Toshi Ranbo within

lands. The scout Shinjo Fuyuko found an unguarded passageway and they came to explore it. [1]
Defeated
Edit
The Unicorn were ambushed by Lion forces led by the Lion's heir Matsu Yoshino. [1] None escaped but Yasuha, who fled to warn the Khan as her comrades died. [2]
External Links
Edit
References
Ad blocker interference detected!
Wikia is a free-to-use site that makes money from advertising. We have a modified experience for viewers using ad blockers

Wikia is not accessible if you've made further modifications. Remove the custom ad blocker rule(s) and the page will load as expected.