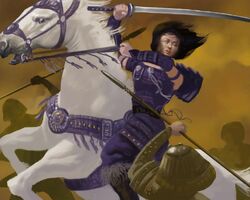 Utaku Tayoi was a bushi and a battle maiden of the Unicorn Clan.
Khan's Defiance
Edit
This year the Khan Moto Chagatai was seeking a covert path to Toshi Ranbo. Tayoi fought the Lion in their lands, and destroyed a Matsu Sanraku's kaisha. Tayoi was eager to revenge her friend Utaku Uzuki, killed in a previous encounter. The Unicorns were shortly after soundly defeated by Lion's heir, Matsu Yoshino. [1]
Destroyer War
Edit
In 1171 Tayoi was part of the Unicorn force sent to aid the defense of the Crab lands during the Destroyer War. [2]
External Links
Edit
References