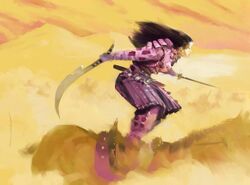 Utaku Tama was a bushi Battle Maiden of the Unicorn Clan.
Training
Edit
Tama was trained as a Battle Maiden, she had learned a few techniques from students of the ferocious Moto style of fighting. She had been given her scimitars by the Khan himself, and in battle she used them like an extension of her body. [1]
Blood Hunt
Edit
In 1166 Tama discovered Iuchi Tudev as a Maho-tsukai. Tudev was subdied and chained, and Tama began to questioning, threatening Tudev with torture. She had a Slayer's Vial, a poison that provoked so much pain that the victim usually died by the violent spasms that broke their bones and tore their muscles apart. Tudev told her all the cultist he knew, in exchange of his freedom. Tama would give his name and likeness to magistrates of every clan, becoming an outcast. [2]
Chagatai's Ambition
Edit
In 1167 Moto Chagatai pondered with Tama his thoughts, which were filled with ambition. [3]
Seeking safe passage to Toshi Ranbo
Edit
Chagatai was seeking a covert path to Toshi Ranbo and sent an expeditionary force that was crushed by

's heir Matsu Yoshino and Ikoma Fujimaro's forces. Tama led a second much larger force which destroyed a Lion Kaisha, and his leader, Matsu Sanraku was killed by Tama in personal combat. Yoshino anticipated where the Unicorn would go and only a handful of Unicorns escaped the ensuing battle. Tama returned defeated at Shiro Moto, covered with shame. Chagatai had learned the Lion moved much quicker than he expected and the time to become unpredictable had come. Ide Tang was filling the stockpiles for a long winter of war. [1]
Khan's Defiance
Edit
Her scouts obtained information on the Lion Clan in 1168 in preparation for Moto Chagatai's assault on the Capital in the winter of 1168-1169. [4] During the Battle of Toshi Ranbo in 1169 Tama was tasked by Chagatai to protect the Baraunghar when the Lion army attacked, allowing the shugenja time to transport the Unicorn army to the capital Toshi Ranbo. [5]
Test of the Emerald Champion - 1169
Edit
Tama and Moto Najmudin were contenders of the Test of the Emerald Champion this year. [6]
External Links
Edit
References