Utaku Tairu was a bushi and a tactician of the Unicorn Clan.
War of Dark Fire
Edit
In 1171 Tairu and his kinsmen had arrived near Kyuden Isawa, where the yobanjin Army of Fire was attacking. He joined Shiba Ikokawa, Yasuki Kowaru, and Shosuro Chieko and defended the courtyard until they had to withdraw or face death. While seeking a escape route they met the Master of Water Asako Bairei. He was embroiled choosing which records to save and which ones remained behind for sure destruction in the fight. The group took as many satchels and chests they could and fled. [1]
Tairu was granted the appointment as advisor of the Amethyst Champion [2] Asako Izuna, a noted inquisitor of the Phoenix Clan. When her duties required Izuna to abdicate as Amethyst Champion, Tairu became the advisor of Yoritomo Minori, a young and inexperienced magistrate who had taken the position amid much controversy. [3]
External Links
Edit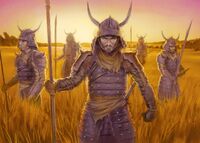 References
Ad blocker interference detected!
Wikia is a free-to-use site that makes money from advertising. We have a modified experience for viewers using ad blockers

Wikia is not accessible if you've made further modifications. Remove the custom ad blocker rule(s) and the page will load as expected.