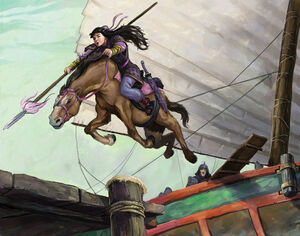 Utaku Sang-Ju was a Battle Maiden of the Unicorn Clan. She was considered a paragon of Bushido.
Family Katana
Edit
Sang-Ju wielded the katana of her grandmother, Utaku's Destiny. [1]
Sang-Ju was friend of Daidoji Ujirou, Shiba Michiki, Hiruma Itta, and Shiba Jaishu. Not long after she had met Jaishu, they were both trying to recover a herd that had been inadvertently freed during a wildfire, and Jaishu hopped atop the leader of the heard, and it went into a frenzy and raced across the plains for an hour. In 1199 the group mourned Jaishu, who had died of an illness during the winter. [2]
External Links
Edit
References