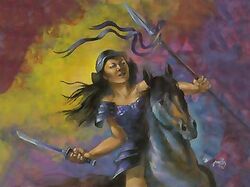 Sahijir was a Moto Clan who moved to Rokugan joining the Unicorn Clan as Otaku Sahijir of House Naoko. She became a magistrate Battle Maiden and member of the Naoko family, vassals of the Utaku family. She later became Utaku Shijir when her family changed the name.
Burning Sands
Edit
Sahijir followed the Moto to Rokugan at the Kami Shinjo's command, but when she arrived, another destiny awaited her. [1] As other gaijin who came to aid the Unicorn in the Moto War swore fealty to the Naoko family once they settled down in Rokugan. [2]
Legacy of the Naga
Edit
Sahijir, Ide Buodin, and Moto Sakura were the magistrates sent to protect the Naga through Lion Clan lands under the command of Shinjo Shirasu. Both she and Buodin were sent to stop Sakura from delivering a mistaken message to Otosan Uchi. [3]
Naoko Daimyo's Hatamoto
Edit
While Naoko Yisheng was left to hunt for a cursed nemuranai, Sahijir took over her resposibilities as her hatamoto within the family. She was considered Yisheng's heir. [2]
External Links
Edit
References
Ad blocker interference detected!
Wikia is a free-to-use site that makes money from advertising. We have a modified experience for viewers using ad blockers

Wikia is not accessible if you've made further modifications. Remove the custom ad blocker rule(s) and the page will load as expected.