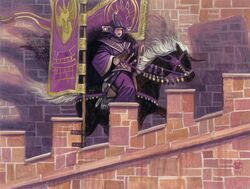 Utaku Rishimaru was a bushi and battle maiden of the Unicorn Clan.
The Wolf
Edit
Rishimaru was under the command of Isawa Sezaru and his inquisitors. She was seeking vengeance after the Rain of Blood in 1165. [1]
In 1166 her army faced overwhelming odds of undead and bloodspeakers in the Northern Wall Mountains. Shinjo Hekirou commanded Rishimaru to reach Kyuden Isawa and inform the Council of Five, while the Battle of the Northern Wall Mountains was unconcluded, but looked bad. He passed the message and allowed Sezaru to be reached with reinforcements, but the battle was already over. [2]
External Links
Edit
References
Ad blocker interference detected!
Wikia is a free-to-use site that makes money from advertising. We have a modified experience for viewers using ad blockers

Wikia is not accessible if you've made further modifications. Remove the custom ad blocker rule(s) and the page will load as expected.