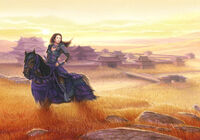 The Utaku Plains were refered by poets and storytellers as the most beautiful place in Rokugan.
Endless Plains
Edit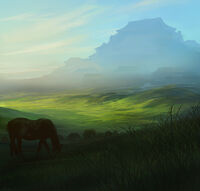 The plains seemed endless, stretching out of the from horizon to horizon with almost nothing to interrupt the view. The Utaku cultivated it only to the extent necessary to fulfill their duties. The majority of developed land consists of small villages and towns with very carefully constrained fields. The maximum amount of foodstuff was harvested for the sacred herds of the legendary Utaku steeds. [1]
Utaku Palace
Edit
The ancestral castle of the Utaku, Shiro Utaku Shojo, sat in the middle of the plains, and was much more a part of the landscape than most castles. [1]
Sacred Plains
Edit
The plains were considered sacred to the family, as it was there that Otaku swore fealty to Shinjo and Otaku Shiko stepped forward to join Shinjo on the Ki-Rin's Exodus. An invitation to join the patrol there was a great honor. [2]
Local superstitiontold that a Battle Maiden who fell from her steed on the Utaku Fields had been judged unfit by the spirit of Otaku. Such Utaku were always reassigned away from the castle, and in extreme cases, the Utaku was ordered to commit seppuku, as it happened twice in the family's history. [2]
External Links
Edit
References
Ad blocker interference detected!
Wikia is a free-to-use site that makes money from advertising. We have a modified experience for viewers using ad blockers

Wikia is not accessible if you've made further modifications. Remove the custom ad blocker rule(s) and the page will load as expected.