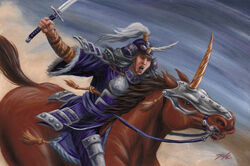 Utaku Mai was a Battle Maiden of the Unicorn Clan. She was considered a Paragon of Bushido. Mai served to the Imperial Families.
Imperial Legionnaire
Edit
Mai was an Imperial Legionnaire who in 1198 sought the raiders who had attacked Unicorn caravans along the Ki-Rin's Path. They defeated a group of bandits on the path between the Second City and Twin Forks City, and their lair became an [1] Ivory Magistrate outpost, and the place would be known as the Tranquil Gardens of Kachiko. [2]
Discovering the Shakuhachi of Air
Edit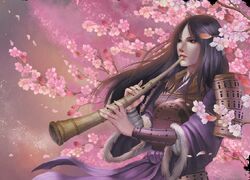 In 1199 Mai discovered the Shakuhachi of Air. Despite she had never shown skill with this musical instruments, the notes that the instrument produced were of such purity that she was moved to tears by her own work. [3]
External Links
Edit
References