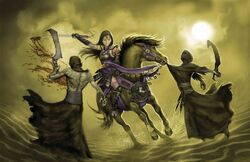 Utaku Lishan was a Battle Maiden of the Unicorn Clan. She was considered a Paragon of Bushido.
Lishan was cousin to Utaku Chikako. [1]
Colonies
Edit
In 1198 Lishan was exploring the Colonies [2] when she found the personal stables of the Maharaja, plenty of elephants. [3] One of the beasts, Chiisai, was traded to the Crab. [2]
Conflicts
Edit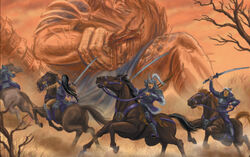 In 1199 Lishan confronted the mutant beast known as Hida Kaiji. She managed to avoid the massive, earth-shattering blows issued by the much larger assailant. At the end, he acquiesced and left, granting the victory to Lishan. [1]
External Links
Edit
References