Utaku Ji-Yun
Talk

0
18,984pages on
this wiki
Utaku Ji-Yun was a bushi and battle maiden of the Unicorn Clan. She was considered a paragon of Bushido.
War of Serpents
Edit
In 1198 Shinjo Etsuma and Moto Ogama were slain when the Shinomen Tower was destroyed by the Dark Naga. [1] Ji-Yun swore revenge for the deaths. [2]
Emerald Champion
Edit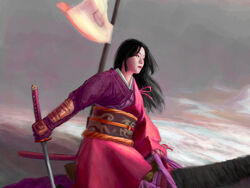 Ji-Yun entered the Emerald Championship and won the title. Her last duel was against Iweko Seiken, the Imperial Heir apparent. She was wounded at her forearms while Seiken received a bad injury to the shoulder. Ji-Yun was terrified by the idea of having wounded the heir. The Jade Champion, Asahina Nanae, was a witness to the duel and told her that she was glad that Seiken found an opponent who would not surrender to him. [3]
External Links
Edit
References