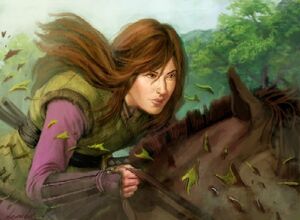 Utaku Hyo-Yeon was a scout of the Unicorn Clan.
Demeanor
Edit
Hyo-Yeon was a impetuous, headstrong samurai-ko who liked to ride with her horse Yarijushi. She made friend of Iuchi Honma, during the time her unit was under the command of Iweko Seiken, when the Imperial Heir traveled from the Empire to the Colonies. [1]
External Links
Edit
References
Ad blocker interference detected!
Wikia is a free-to-use site that makes money from advertising. We have a modified experience for viewers using ad blockers

Wikia is not accessible if you've made further modifications. Remove the custom ad blocker rule(s) and the page will load as expected.