Utaku Fujiko was a bushi commander Battle Maiden of the Unicorn Clan.
Chagatai's ambition
Edit
Fujiko fought at the Battle of Toshi Ranbo in 1169 during the Khan's Defiance. Her unit was killed by Akodo Natsu's unit, and Natsu was about to kill Fujiko when the Phoenix army arrived and separated the fighting forces throughout the city. [1]
The exact fate of Fujiko was unknown but she was dead before the end of the 12th century. [2]
External Links
Edit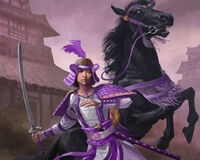 References
Ad blocker interference detected!
Wikia is a free-to-use site that makes money from advertising. We have a modified experience for viewers using ad blockers

Wikia is not accessible if you've made further modifications. Remove the custom ad blocker rule(s) and the page will load as expected.