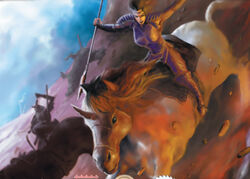 Utaku Etsuko was a bushi and Battle Maiden of the Unicorn Clan.
Etsuko was appointed as a gunso to patrol the Shinomen Mori. [1]
Hostilities with the Crab
Edit
In 1170 Etsuko talked with Toritaka Kaiketsu at the Shinomen Mori while they were investigating the rumors of the Spider Clan. They talked beside an abandoned Spider compound. After she left arrows were fired to Kaiketsu's scouts, and the Crab believed it was a Unicorn ambush, despite the long standing alliance between the Crab and Unicorn Clan. [2] She left behind Shinjo Isuke at command of the infantry, while Etsuko arrived the Naga cities with time enough to make a defence. It was later revealed that her unit did not have mounted archers in it, and that the ambush were set up by someone else. [3] Kaiketsu reched alone the Naga city, and talked with Etsuko. The Crab told Isuke and his men had been killed to the last man, to realize later that they had not bows as part of their weaponry. Etsuko passed him a Tsuruchi bow which had been found hidden in the woods near the battlefield. [1]
External Links
Edit
References
Ad blocker interference detected!
Wikia is a free-to-use site that makes money from advertising. We have a modified experience for viewers using ad blockers

Wikia is not accessible if you've made further modifications. Remove the custom ad blocker rule(s) and the page will load as expected.