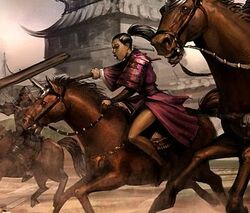 Utaku Chiasa was a bushi and a battle maiden of the Unicorn Clan.
Chiasa was assigned to a unit patroling the Western Steppes, alongside Moto Kunio, Utaku Arisa, Moto Yuudai, and Ide Shinji. [1]
Ashalan attack
Edit
In 1170 a group of Ashalan vassals marched to the Shinomen Mori and were defeated by Chiasa's unit [1] in the Western Steppes. [2]
External Links
Edit
References