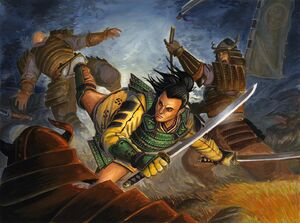 Usagi Seki, the Untouchable, was a member of the Hare Clan who lived in the last years of the 12th century. He was an ambassador of the Alliance of Minor Clans [1] to the Dragon Clan, and eventually Seki joined the Great Clan. [2]
Appearance and Demeanor
Edit
Seki was an athletic bushi who was well known for never having been touched by any foe he had ever faced, and he did not engender resentment because his easy-going and sociable manner. Seki was handsome and charismatic, making him popular among young women in the courts he attended. [3]
External Links
Edit
References