Ad blocker interference detected!
Wikia is a free-to-use site that makes money from advertising. We have a modified experience for viewers using ad blockers

Wikia is not accessible if you've made further modifications. Remove the custom ad blocker rule(s) and the page will load as expected.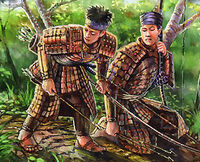 The Hare Bushi emphasized speed and athleticism in their fighting style. In combat a trained Hare was a blur. [1] [2]
Training
Edit
The Usagi style had survived intact for centuries despite the various tragedies that had befallen the Clan. The Usagi style specialized in escape, defense, and fighting multiple opponents. A Hare samurai made daring leaps, bounds, and kicks, moving dynamically into combat only to quickly dart back. A Hare relies on fists and feet as much as his blade, combining steel and martial arts in a dazzling athletic display. [3]
Hare Bushi Techniques
Edit
See also
Edit
External Links
Edit
References
↑ Way of the Samurai, p. 77
↑ Way of the Minor Clans, pp. 118-119
↑ Legend of the Five Rings; Third Edition, p. 147