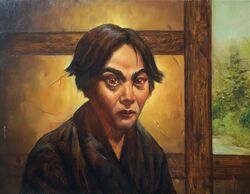 Unmei was a storyteller koumori spirit. When the armies of the Kami were scouring the Empire destroying those they thought to be minions of Fu Leng, Unmei and his people were spared by Hida who saw that they were not followers of Fu Leng. Unmei and his people fled to the Islands that would later be known as the Islands of Spice and Silk. [1]
Kaimetsu-Uo
Edit
"Have you come to collect on the debt I owe? Have you come for that which Hida has entrusted to me?""
-Unmei
Several years later, Unmei met Kaimetsu-Uo who had come to the Islands seeking the creature his grandfather Hida had told him about. Unmei told Kaimetsu-Uo the stories of when the Empire was first founded. [1]
"A story is a living thing, and tales grow and change as all living things do."
-Unmei
External Links
Edit
Unmei (Dawn of the Empire)
References
Ad blocker interference detected!
Wikia is a free-to-use site that makes money from advertising. We have a modified experience for viewers using ad blockers

Wikia is not accessible if you've made further modifications. Remove the custom ad blocker rule(s) and the page will load as expected.