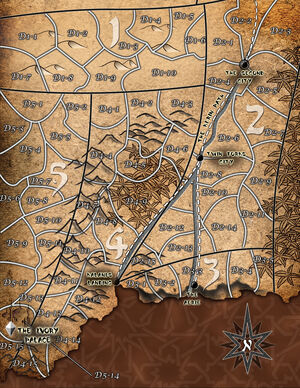 The Unknown Lands was the greatest district of the Colonies, and home to the greatest dangers there. [1] The only known Rokugani holding was Suitengu's Torch, a coastal settlement built by the Mantis Clan. The Great Temple of Ruhmal was found there. [2]
Mountain Range
Edit
The area was dominated by a mountain range known by the Rokugani as the Ivory Mountains, and as Vindhyas by the natives. [2]
The limited experiences of the clans in this area seemed to indicate there was a disproportionately large amount of hostile and supernatural wildlife, sa the [[Red Hunger]]. [2]
References
Ad blocker interference detected!
Wikia is a free-to-use site that makes money from advertising. We have a modified experience for viewers using ad blockers

Wikia is not accessible if you've made further modifications. Remove the custom ad blocker rule(s) and the page will load as expected.