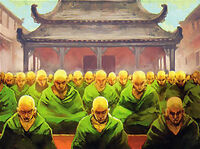 Unity of Purpose was a People's Legionnaire technique which taught how to work together, using numbers and discipline to overcome the superior fighting skills of samurai opponents. It was developed by the monk Rojin, the former Lion Clan Champion Akodo Akihisa. [1]
External Links
Edit
References
↑ Imperial Histories, p. 123
Ad blocker interference detected!
Wikia is a free-to-use site that makes money from advertising. We have a modified experience for viewers using ad blockers

Wikia is not accessible if you've made further modifications. Remove the custom ad blocker rule(s) and the page will load as expected.