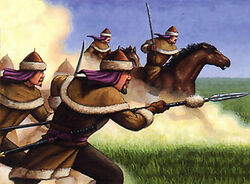 The Unicorn Striders were the younger rank of the Unicorn infantry, trained to run fast to join the battle. [1] With cavalry to lead the charge and infantry to protect the cavalry flank, the Unicorn had devastating offensive capabilities. [2] They used speed to deploy the units at range, and then withdrawing the horses so that the men can fight on foot. [3]
Known Engagements
Edit
Scorpion Coup
Edit
During the Scorpion Coup the Striders tested the Scorpion defenses at Otosan Uchi under the command of Shinjo Mokatsu. [4]
Battle of Treacherous Pass
Edit
The Striders were part of the invading Unicorn army who was defeated by the Phoenix in the Battle of Treacherous Pass. [5]
See also
Edit
External Links
Edit
References
Ad blocker interference detected!
Wikia is a free-to-use site that makes money from advertising. We have a modified experience for viewers using ad blockers

Wikia is not accessible if you've made further modifications. Remove the custom ad blocker rule(s) and the page will load as expected.