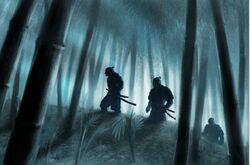 Under Cover of Night was a Ki-Rin Moto Nomad technique which taught to use shadows and the cover of night to move about without detection. They were also shown given their first Chronicle – their own passage in the continuing verbal tradition that the Moto kept to give to Shinjo on her return. [1] [2]
External Links
Edit
References
Ad blocker interference detected!
Wikia is a free-to-use site that makes money from advertising. We have a modified experience for viewers using ad blockers

Wikia is not accessible if you've made further modifications. Remove the custom ad blocker rule(s) and the page will load as expected.