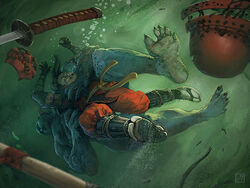 Umibozu, also called Sea Trolls, were trolls spawned from a series of islands in the Sea of Shadows. [1]
Appearance
Edit
Umibozu resembled common trolls [2] except that the skin was rippled and slimy, which dealt electrical damage when touched, and they had rough ant-eater-like tongues. Their fore-claws were powerful, but their webbed legs were shrunken and vestigial. [3]
Umibozu were reclusive trolls which attacked ships by breaching the hull from below, then picking off the swimming sailors one by one. The intense corruption there rendered a few of them utterly mad. A few umibozu transformed into the giant abominations called O-Umi-Bozu. [2]
External Links
Edit
See also
Edit
References
Ad blocker interference detected!
Wikia is a free-to-use site that makes money from advertising. We have a modified experience for viewers using ad blockers

Wikia is not accessible if you've made further modifications. Remove the custom ad blocker rule(s) and the page will load as expected.