The Sea of the Jade Dawn, [1] formerly known as Sea of Lord Sun, was where Lord Sun rose every morning above a usually calm sea. It was previously named Umi Amaterasu, but after her death and Yakamo's ascension it was renamed. [2]
Shadowlands influence
Edit
It was the southern sea bordering the Shadowlands, bordered by crumbling cliffs of blackened soil and stone. The water in itself was fouled and darkened with soot and grease. Ships were occasionally blown there by storms, and the survivors claimed having seen gigantic creatures lurking below its fetid surface. The coastline was composed of volcanos, geysers, and charred mountains of ash and pumice. Frequent volcanic activity shifted the coastline and bathed the landscape in a strange reddish glow that could be seen from the southernmost Crab outposts. It was rumored that the shore was littered with diamonds. [3] There were a number of buoys along the coast to help sailors into the harbors along the coast and to prevent them from sailing too far out to sea. [2]
Yakamo's death
Edit
Since the death of Yakamo and the ascension of the Jade Sun it was unknown if the sea had been renamed once more. Sometimes it was called Yakamo's Heart. [4] The sea that once was bright and clear, became turbulent, denying clear vision. It was said that the Islands of Spice and Silk could be seen from Kyuden Doji on a clear day, but after the sea was renamed it was possible never more. [5]
External Links
Edit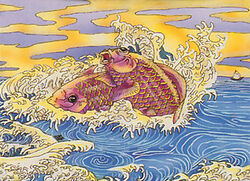 References
Ad blocker interference detected!
Wikia is a free-to-use site that makes money from advertising. We have a modified experience for viewers using ad blockers

Wikia is not accessible if you've made further modifications. Remove the custom ad blocker rule(s) and the page will load as expected.