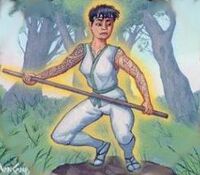 Uidori was a monk of the Brotherhood of Shinsei. She returned to life through Oblivion's Gate in 1133.
Spirit Wars
Edit
She was a supporter of Hantei XVI. [1] Uidori believed the returned spirits had returned home, and they had to take their due. To do so, the Empire must change. She adressed to this message to the Emperor Toturi I himself. [2]
External Links
Edit
References
Ad blocker interference detected!
Wikia is a free-to-use site that makes money from advertising. We have a modified experience for viewers using ad blockers

Wikia is not accessible if you've made further modifications. Remove the custom ad blocker rule(s) and the page will load as expected.