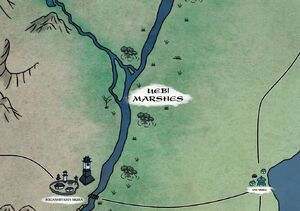 Uebe Marshes were the ancestral home and training grounds of the Hiramori family, who dwelled in widely scattered, deeply dug tunnel complexes, or camouflaged stockades. The marshes were a huge tract of overgrown wetland between Mura Sabishii Toshi and the Golden Sun Plain, and the woodlands nearby were known as the Akagi Forest. These marshes and forest were the place where the Foxfire War was initially fought in the 6th century. [1]
References
↑ Secrets of the Crane, p. 31
Ad blocker interference detected!
Wikia is a free-to-use site that makes money from advertising. We have a modified experience for viewers using ad blockers

Wikia is not accessible if you've made further modifications. Remove the custom ad blocker rule(s) and the page will load as expected.