Soshi Tzurui of House Nanbu was the nephew and heir of Nanbu Tsuchiya, daimyo of the Nanbu family, vassals of the Soshi. Following the Scorpion Coup the Nanbu were disbanded, and he became the ronin Tzurui. [1] He later kept the name when he joined the Monkey Clan.
Nanbu family
Edit
The Nanbu lived in peace for generations in their valley, which was in view of White Shore Plain. Occasional trade kept them aware of events and helped the village grow. In his earlier days, Tzurui was betrothed to Iuchi Ochiyo. He fell deeply in love with her and dedicated his life to caring for her in her sickly state. During the birth of their first child, Kochohime, she died, and Tzurui pledged to protect Kochohime with his life. [2]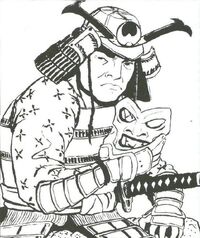 During the Scorpion Coup, Tzurui was cast out as a ronin. He did not step forward to defend his master, thinking only of his daughter. He felt cursed until he could prove himself worthy. He did not want to see his daughter share his curse, so he traveled from battle to battle trying to prove himself, leaving his girl in the care the monk Hanoshi. [2]
When he finally collapsed from exhaustion and hunger he prayed to Amaterasu to spare his daughter from his fated curse. At this point, he met a ronin that shared a rice cake with Tzurui. The ronin was Toku. They headed north to the Great Climb together. [2]
Toturi's Army
Edit
Following Toku, Tzurui became a member of Toturi's Army. There he met people mostly ronin, some Dragon samurai and even Imperials as Otomo Yayu, who recorded the tales of the ronin who joined the army. [3] [4] When Toturi became an Emperor Tzurui remained at his side, altogether with his friend Toku, to protect Toturi. During one of Toturi's journeys Toku rallied his men against a bandit gang who were slaughtering captive peasants in a village nearby, after the brigands had killed all the resident samurai. The enemy leader, Nikotsu, quickly escaped instead to face Toku, leaving behind several injured and dead Imperials, including a wounded Tzurui. [5]
Monkey Clan
Edit
Tzurui was among the first to swear fealty to the Monkey Clan, and served it loyally until his death in 1150, during the final days of the War of Spirits. His friend Toku sent a request to the new Soshi Daimyo, Soshi Uidori, who reinstated the Nanbu family with Tzurui's daughter as the new Nanbu Daimyo. [6]
Memorial
Edit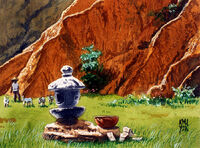 Tzurui's grave was honored by the Monkey Clan members. [7]
See also
Edit
External Links
Edit
References
Ad blocker interference detected!
Wikia is a free-to-use site that makes money from advertising. We have a modified experience for viewers using ad blockers

Wikia is not accessible if you've made further modifications. Remove the custom ad blocker rule(s) and the page will load as expected.