Twin Soul Temple (P10) was a place were the bonds between shugenja and bushi were forged very close, creating the perfect bond of camaraderie. [1]
Twin Soul Temple was established centuries ago by the Order of Chikai. Traditionally the temple offered training facilities for bushi but also the customary libraries and shrines for shugenja, emphasizing the close bond between shugenja and yojimbo, teaching the bushi to protect his charge at all costs but also teaching the shugenja to value the counsel and courage of his bodyguard. The pairs of shugenja and yojimbo trained there were among the most effective and cooperative who served the Phoenix Clan. [2]
External Links
Edit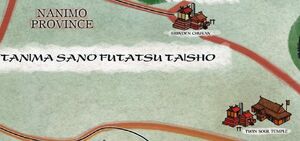 References
Ad blocker interference detected!
Wikia is a free-to-use site that makes money from advertising. We have a modified experience for viewers using ad blockers

Wikia is not accessible if you've made further modifications. Remove the custom ad blocker rule(s) and the page will load as expected.